Ganix was born in 1983 in Donostia/San Sebastián.
He started showing interest in music very early on, specially when, as a child, they gave him a little electronic keyboard (kind of "toy") for a present. He seriously started with music when he was 6 years old, having his first lessons in AME (Axular Musika Eskola), where he would learn auditive education, music theory and reading, choir, piano and violin, with which he played in an orchestra called "Txatxarro". While being in AME music school, Ganix had several piano concerts in Donostia/San Sebastián's town hall, and also participated in the International Piano Competition, getting the 3rd mention when he was 12 years old.
When he was about 8 years old, he entered the well known "Escolanía del Coro Easo", which is the Coro Easo's children choir, where he would remain for 6 years (until the voice change arrived and those high notes would no longer be possible). In those years, he participated in several concerts and tours abroad, even singing as a soloist. He also sang in two operas, Puccini's "La Bohème" and Bizet's "Carmen".
At the age of 12, he entered the music conservatory (in that time higher conservatory), getting the first position in the access tests. During these years in the conservatory, he had numerous concerts, mainly classical repertories. Since the beginning, he offered some of his arrangements and compositions, which were also requested and played by musicians outside of the conservatory. Soon, well payed concerts would arrive, like the chamber music concert in Andoain's town hall. Just them, piano and cello. Ganix finished the conservatory with honours and, some years later, obtained the professional music diploma with a specialization in piano.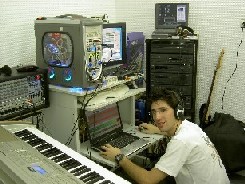 During his last years in the conservatory, Ganix started getting interested in improvisation and diverse music styles. Therefore, he got some particular lessons on improvisation, modern harmony, arrangements, jazz... Nowadays, he's musically self-taught. Among other aims, he tries to analyse harmonies and rythmic patterns of many different music styles, helping him find new flavours in his arrangements and compositions. In Jamix, he mainly plays the keyboard.
Besides having this blossoming career in music, he also had school, college and even university. He got excellent marks in the technological sciences bachelor and entered university whilst still being in the conservatory. Nowadays he keeps studying Telecommunication Engineering in Tecnun. He tries to combine this with university studies, concerts and rehearsals of Jamix, occasional colaborations with other bands and groups, and his passion for computers, which takes much time, but never enough. He also uses computers to compose with sequencers, synthesizers... Some of these compositions, winners in computer music competitions, can be listened here: geb (genetically engineered beast), e-bird, funarky (registered in SGAE).
In the summer of 2006, Ganix played with Ácido C in the Jazzaldia, the popular Jazz Festival from Donostia / San Sebastian, in front of more than 3200 people.
Ganix has had and has the chance to travel a lot, by his own and with his family. This helped him with languages and also in knowing many different cultures, people, music roots.. He tasted many different music flavours in countries like: Malta, Cuba, Turkey, China, Brazil, Iceland, Indonesia, Costa Rica, Egypt, Canada, Tunisia, USA, Singapore, UK, Ireland, Monaco, France, Belgium, Luxembourg, Netherlands, Denmark, Poland, Czech Republic, Slovakia, Slovenia, Hungary, Austria, Germany, Switzerland, Italy, Greece, Croatia... where he seizes every opportunity to go to music festivals, visit music clubs, and enjoy all other musical events that come his way.